Back
2022 Limit Changes: Here's How Much Bitcoin You Can Buy/Sell with Relai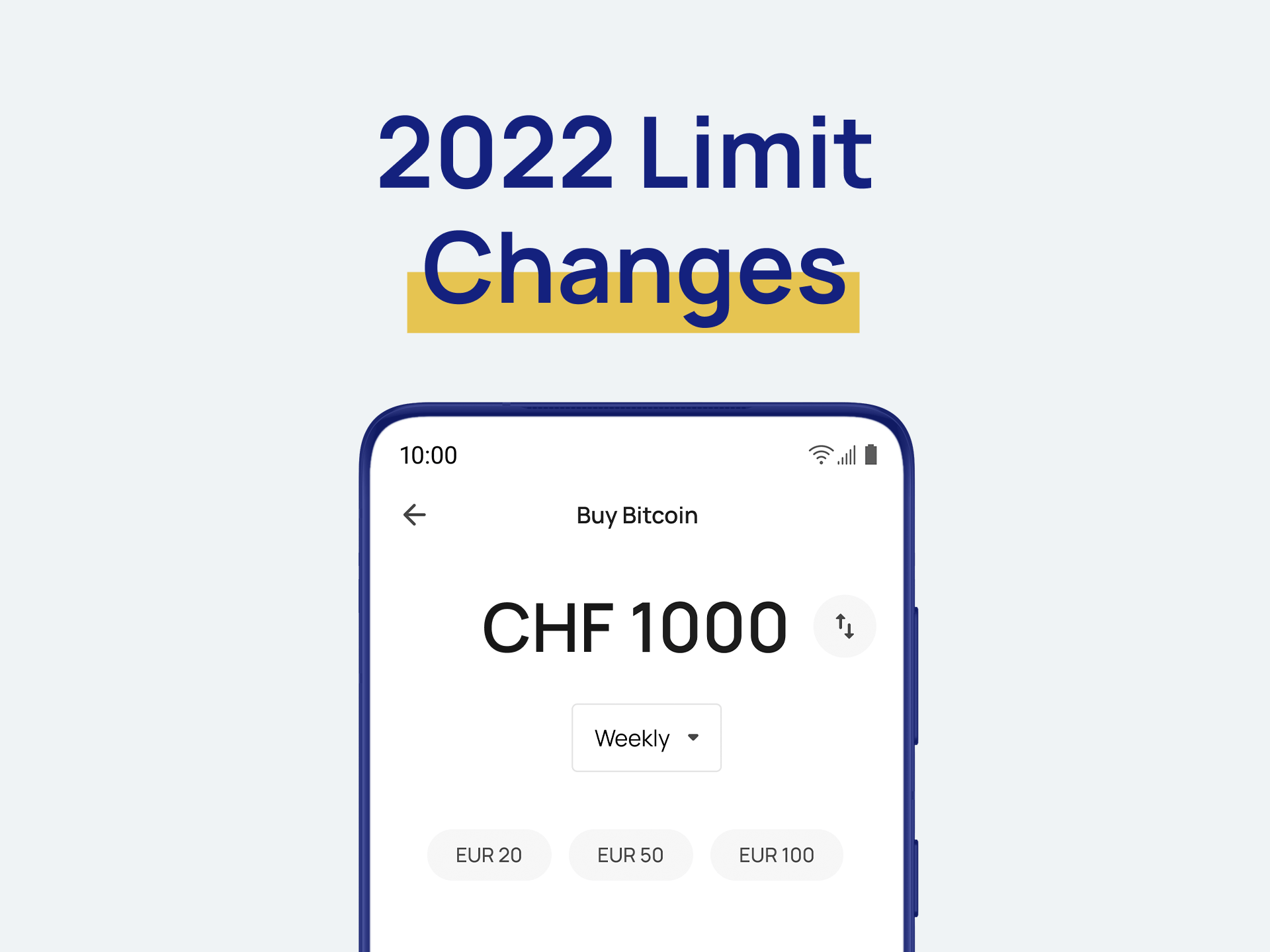 Read on to learn about our new trading limits and how they may affect you.
What's New?
As a member of the Swiss Financial Services Standards Association (VQF), Relai is compliant with Swiss regulations.
To comply with recently introduced regulations, we have had to lower our trading limits.
For standard (no-KYC) Relai users, the monthly limit of the amount of bitcoin (BTC) you can buy or sell drops to CHF 1,000 / EUR 900*.
On an annual basis, that equates to a limit of CHF 12,000 and EUR 10,800*.
You can view our new limits in detail here.
| | | | |
| --- | --- | --- | --- |
| | Swiss Francs (CHF) | Euro (EUR)* | Bitcoin (BTC) |
| Minimum buy order amount | CHF 10 | EUR 10 | – |
| Minimum sell order amount | – | – | 0.0002** BTC |
| Maximum order without KYC(from January 1, 2022) | CHF 1000 per 30 days (rolling) | EUR 900* per 30 days (rolling) | – |
| Maximum order (with KYC) | CHF 100,000 per 24h | EUR 90,000* per 24h | – |
Please note that these limits are for both buying and selling combined.
Why the New Limits?
The new limits are a result of newly introduced regulations in Switzerland that require investors to complete a KYC process to buy virtual assets once they purchase over CHF 1,000 in a month.
This is the AML requirement of FINMA. With these amounts, money exchange transactions are not subject to registration or licensing. Therefore, no KYC/AML is required.
What Does This Mean for You?
If you are a Relai user and you buy less than CHF 1,000 / EUR 900* worth of bitcoin per month (via a bitcoin savings plan or one-off purchases), nothing changes for you.
However, if you have set up a bitcoin savings plan for more than CHF 1,000/ EUR 900* per month, you will need to reduce the figure to stay within Relai's new limits.
Unfortunately, that will mean canceling your current savings plan and setting up a new one that amounts to less than CHF 1,000/ EUR 900* per month.
What If You Want to Buy More Than Our No-KYC Limits?
The good news is that you can buy more than CHF 1,000 / EUR 900* per month using Relai using our newly introduced OTC trading service. However, to buy and sell larger amounts of bitcoin, you will need to complete a KYC onboarding process.
If you would like to trade with volumes above CHF 100,000 / EUR 90,000*, please contact our OTC team at [email protected].
To start buying bitcoin today, download the Relai app from the Google Play Store or Apple App Store.
*Relai is a Swiss regulated broker, and the limits are therefore based on the Swiss franc. Note that the exchange rate to Euro may vary.
**The BTC minimum could change in the future.