Back
Bitcoin's Future: Price And Adoption Drivers For 2023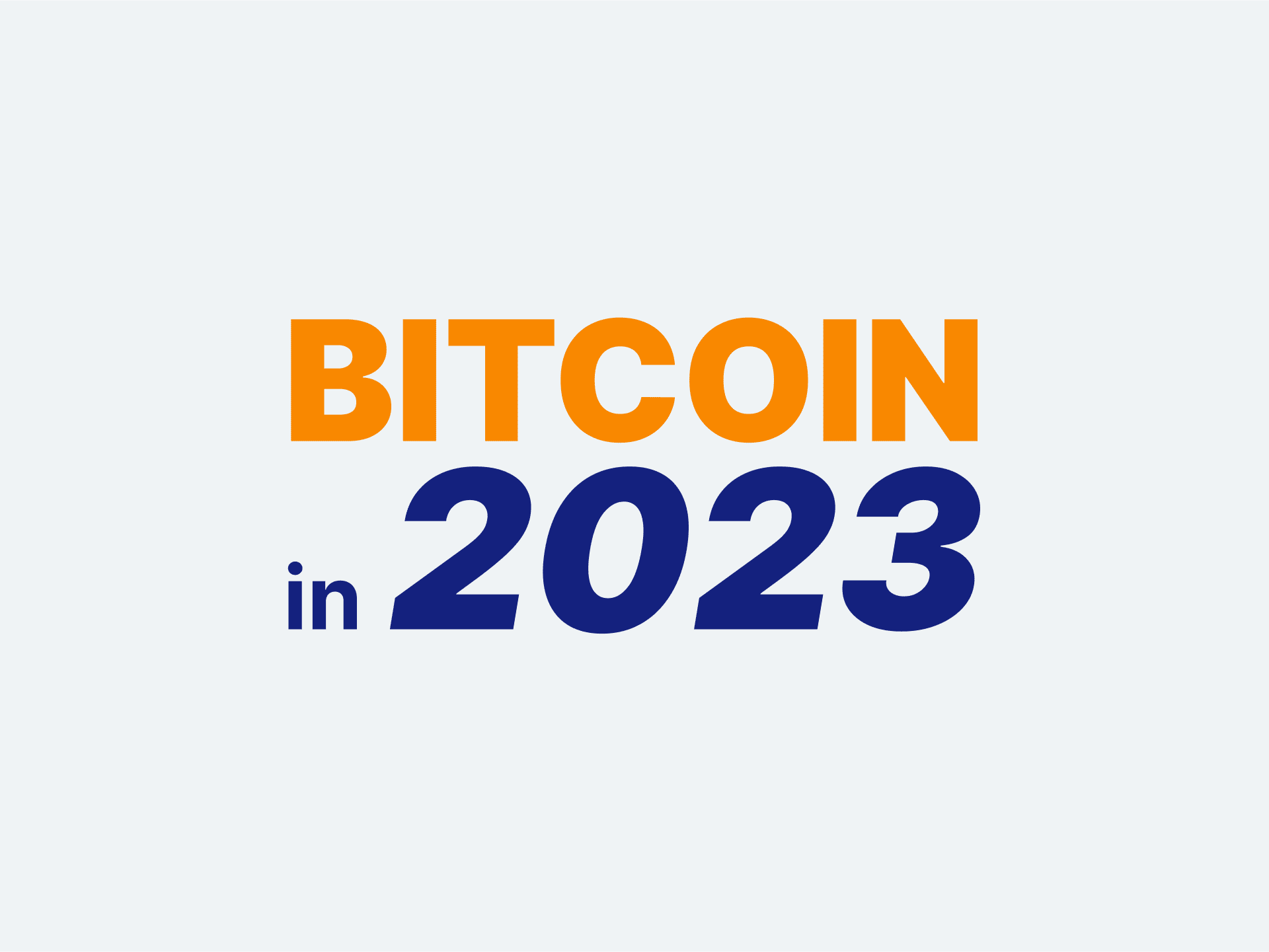 2022 has been a tough ride for investors. Bitcoin and tech stocks suffered and corrected sharply after the pandemic-induced speculative manias of 2020 and 2021. Now, at the beginning of 2023, we're looking at what the year could have in store for Bitcoin's future, which drivers and predictions could influence adoption, and, of course, the price.
Bitcoin's Future Is Uncertain, But We've Been Here Before
This is not the first Bitcoin bear market. We've seen multiple phases of drastic price drops and decreased mainstream interest in the past decade. The bitcoin price first reached a peak in 2013, driven by increased media attention and new businesses accepting it, but then plummeted in 2015 due to the collapse of Mt. Gox, the largest exchange back then.
It remained stagnant for a few years before rising again in 2017 due to increased interest from investors. In 2018 it fell sharply but soon saw upward trends again, reaching a new all-time high in 2021. The year 2022 has seen many unpredictable events, like Russia's invasion of Ukraine and the collapse of many crypto companies like FTX.
While uncertainty is still prevalent, many analysts and experts think that Bitcoin will do again what Bitcoin does best: Surprise everyone with bombastic comebacks. So let's look at some of the most interesting predictions on Bitcoin's future for 2023 and beyond.
Bold Predictions On Bitcoin's Future Price
Tim Draper, a well-known venture capitalist and bitcoin bull, has predicted that the price will reach $250,000 by the end of 2023. In an interview with Cointelegraph, he doubled down on his bullish prediction and said: "No change in the price prediction. Still $250,000 by early next year". According to him, negative events like the FTX scandal are positive: "I think this fiasco is going to bring on a lot more Bitcoin maximalists. Note that your money is not secure in a centralized system, whether crypto or fiat."
Goldman Sachs, a multinational investment bank, said in a report published in early 2022 that bitcoin could hit $100,000 per coin within the next five years. "We think that bitcoin's market share will most likely rise over time as a byproduct of broader adoption of digital assets," Zach Pandl, the co-head of global foreign exchange, rates, and emerging market strategy for Goldman Sachs, said in the report. According to Pandl, bitcoin could steal market share from gold.
Carol Alexander, professor of finance at Sussex University, wasn't far off the mark with her prediction that bitcoin would slip to $10,000 in 2022. Now, she thinks the cryptocurrency could be set for gains — but not for reasons you might expect. Alexander said the catalyst would be more dominos from the FTX fallout tipping over. If this happens, she expects the price of bitcoin will top $30,000 in the first quarter of 2023 and then $50,000 by quarters three or four. "There will be a managed bull market in 2023, not a bubble — so we won't see the price overshooting as before," she told CNBC.
Alistair Milne, CIO of Altana Digital Currency Fund, tweeted on December 30, 2022, that he sees bitcoin at least at around $45,000 at the end of 2023. "We should see at least ~$45k by the end of 2023 (which you might discount due to the damage done). Alternatively, if central banks decide to tolerate a higher inflation target (e.g., cut earlier to avoid recession despite 3-4% inflation), hard assets may become en vogue again," Alistair wrote. Long-term, he is even more bullish: "(…) with the halving in April 2024, we should see $150-300k by end 2024. If you take a 2-year view, this is no time to be bearish and is likely peak opportunity for the bulls."
Of course, there are also some analysts who are a lot more bearish on bitcoin's future price. Nouriel 'Dr. Doom' Roubini, an economist known for his negative views on bitcoin, has predicted multiple that the price of bitcoin will drop to zero in the long run. Of course, not everyone is as pessimistic as Roubini. Standard Chartered, a London-based bank, released a research report in December 2022, saying that bitcoin may sink as low as $5,000. "Yields plunge along with technology shares" in Standard Chartered's nightmare 2023 scenario, "and while the Bitcoin sell-off decelerates, the damage has been done," said Eric Robertsen, the bank's global head of research. "More and more crypto firms and exchanges find themselves with insufficient liquidity, leading to further bankruptcies and a collapse in investor confidence in digital assets," he added. Robertsen said the scenario has a "non-zero probability of occurring in the year ahead" and falls "materially outside the market consensus or our own baseline views."
Technological developments that could impact Bitcoin's Future
2022 was a tumultuous year, but the Bitcoin network again showed its resilience. From a technical perspective, we made some big steps forward – and 2023 will be no different. Let's take a closer look at four things that we think have a positive impact on Bitcoin's future:
The Lightning Network is growing
The Lightning Network is a layer built on the Bitcoin blockchain that enables faster and cheaper transactions. This is especially useful for 'micro payments' on an everyday basis. It works by opening a payment channel between two parties, through which they can conduct multiple transactions without the need to broadcast them to the network. At the end of 2022, the Lightning Network's capacity surpassed 5,000 bitcoin, which marked a new record.
Large energy and tech companies are entering Bitcoin mining
Bitcoin mining is getting more sophisticated, meaning legacy companies want a piece of the pie. ExxonMobil is mining bitcoin in North Dakota to turn wasted gas into energy for mining operations. Japan's largest power company, TEPCO, also wants to mine bitcoin with excess energy. Shell, one of the world's largest oil and gas companies, is offering cooling solutions to miners. And chip-giant Intel launched a Bitcoin mining chip focused on sustainability.
Hardware wallets are becoming more user-friendly
Taking care of your own private keys is essential for every Bitcoin investor. Remember: Not your keys, not your bitcoin. Luckily, buying bitcoin is made super easy with apps like Relai. But also hardware wallet manufacturers are working hard to make the experience of securing your wealth as easy and simple as possible. The BitBox02 by our friends from Shift Crypto is an excellent solution for anyone who wants a quality Swiss-made hardware wallet.
The Bitcoin software is getting better and better
SegWit was an important upgrade that was implemented in 2017. It helped the network scale and handle more transactions. It also was the first step to enable Layer 2 Solutions that are supposed to make Bitcoin faster, more efficient, and cheaper for small payments. Since then, Bitcoin has gotten some more upgrades, most notably Taproot. Taproot is essentially the name for three upgrades: First, 'Schnorr Signatures', which, in a very simplified way, allow Bitcoin transactions to be more private. The second 'Taproot' itself, which needs this new signature type to go further, kicked off with SegWit: more privacy by leaving less transaction info behind. And third, an upgraded transaction programming language called 'Tapscript'. It allows devs to implement Bitcoin upgrades more efficiently in the future.
Conclusion: Long-Term Bullishness During An Uncertain Outlook
2023 is still young, but we can most likely expect more political and economic uncertainty. Rising interest rates, high energy prices, and skepticism among investors are still prevalent throughout all asset classes.
The Bitcoin price may suffer, and uncertainty could rise as the price goes down, but investors should keep in mind that adoption is rising. Monetary devaluation during high-interest rate environments like today, coupled with an ongoing loss of trust in centralized institutions, could be major drivers for a new bull market.
Bitcoin is not going away. Times like these were historically good opportunities to get good entry prices, e.g., use a savings plan to continuously buy bitcoin on auto-pilot. Please keep in mind that you should do your own research and stay skeptical about the price of bitcoin.