Back
Introducing Relai Business: Buy Bitcoin As A Company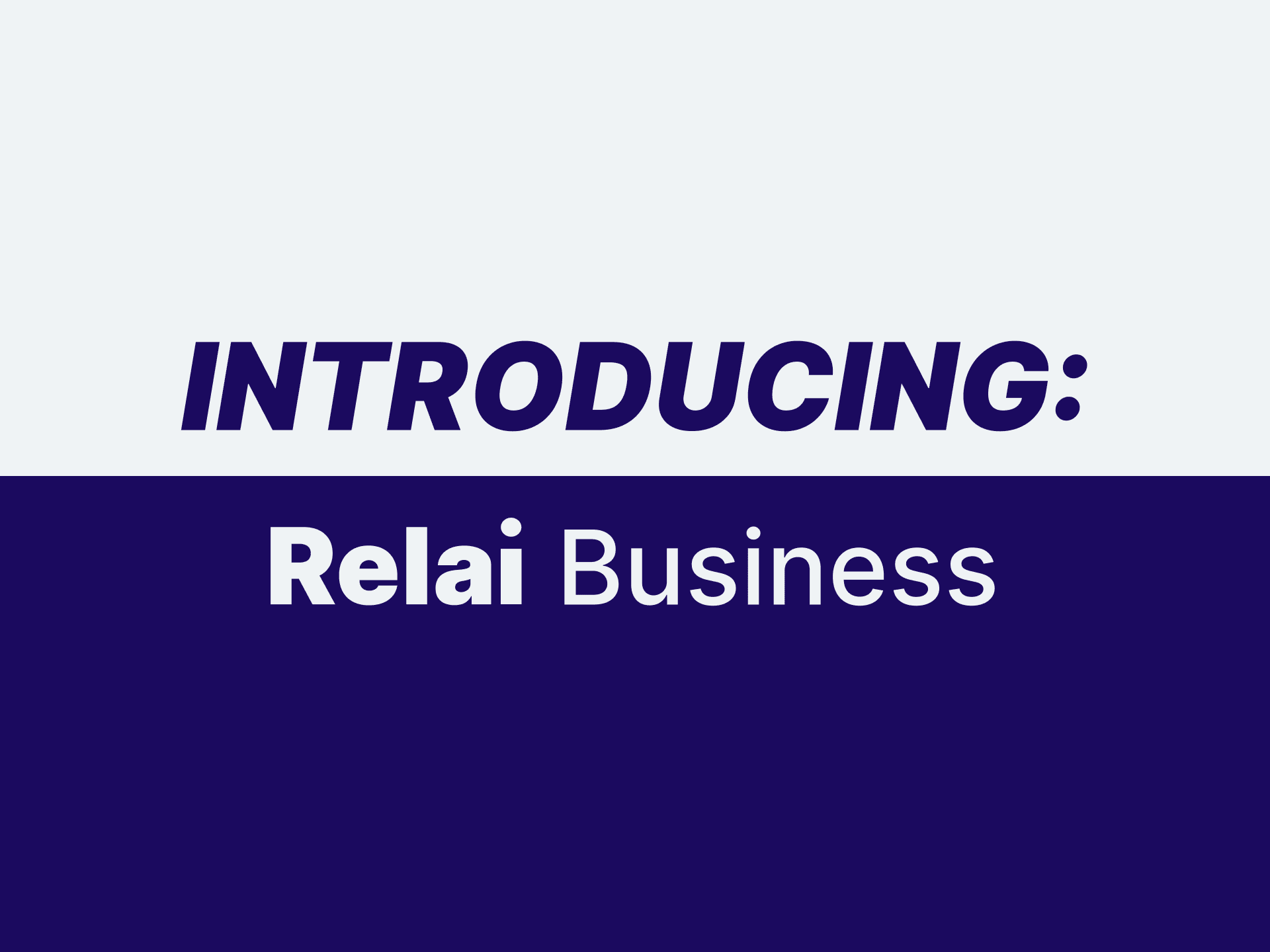 Companies and businesses can now buy bitcoin within one day. Discover how Relai Business can help your company buy bitcoin. Our over-the-counter (OTC) solution offers expert guidance, fast and easy onboarding, and access to exclusive content and webinars.
In this blog post, you'll learn why buying bitcoin as a company is smart and how easy it is to buy or sell it with Relai Business.
What is Relai Business?
Relai Business is our second OTC arm: Relai Private is our exclusive, high-quality OTC solution with which we already guide high-net-worth individuals through bitcoin investments above 100.000 CHF / EUR per transaction. Now, we are excited to announce the launch of Relai Business, which offers the same level of service for small and medium-sized companies.
Our goal with Relai Business is to bring the benefits that over 50.000 active users of the Relai app love to the next level. This way, buying bitcoin as a company becomes as straightforward and easy as it is for individuals.
The benefits of using Relai Business include the following:
Expert guidance from the Relai team, a Swiss company focused solely on Bitcoin
Directly reach out to our relationship manager, and buy bitcoin as a company in less than 24 hours
Individual step-by-step support from onboarding through custodial solutions
Access to regular webinars and knowledge sharing with an exclusive circle of experts from in and outside of Relai, as well as other Relai Private and Business clients
Why businesses should buy bitcoin
Bitcoin is a unique, emerging technology, monetary good, and asset class. In its second decade, it proved its resilience multiple times. Despite short-term volatility, it has historically grown in value, as have its core metrics, such as the Bitcoin network's computing power and adoption in terms of holders.
Properties like no single issuer and no counterparty risk make bitcoin unique and interesting for investors. This also makes the Bitcoin network different from the thousands of 'crypto' assets out there.
How businesses and companies can buy bitcoin with Relai Business:
The process for acquiring bitcoin through Relai Business is simple and straightforward. Our team guides you through every step of the way.
You approach the Relai Business team by sending an email or scheduling a call with us. You can do that on the Relai Business page.
We will let you know which documents are required in your individual case. You send us the required documents.
We will arrange a joint video call to discuss the details of your trade.
Payment and final execution of the trade.
FAQ
What are the all-inclusive Relai Business fees?
In addition to highly competitive rates on the price of the bitcoin you want to buy or sell, we also offer very low fees for your purchase. Note that the fees are all-inclusive, meaning that the individual service we provide you with from start to finish is included.
100'000-499'000 = 2%
500'000 – 999'000 = 1,5%
1'000'000 or more = 1%
What is the difference between Relai, Relai Private, and Relai Business?
Relai is for everyone who wants to buy and sell bitcoin, starting with as little as 10 EUR/CHF via our mobile app.
Relai Private is for individuals who want to trade beyond our default limits. Relai Private clients can buy or sell larger amounts of more than 100,000 EUR/CHF with exclusive personal service and expert guidance.
Relai Business is for small to medium-sized businesses who want to add bitcoin to their balance sheets of more than 100,000 EUR/CHF per transaction with exclusive personal service and expert guidance.
What are the benefits of Relai Business?
As a Relai Business client, you will get a single dedicated point of contact for all your bitcoin investment needs. You will not only get the best price and execution via more than 35 trading venues but also receive expert, individual guidance on choosing the right custody option for your bitcoin.
Want to learn more how to buy bitcoin as a company? Head over to the Relai Business page and contact us.