Back
Meet The Rockstar Advisors Joining The Relai Team!
We're thrilled to announce that four prominent educators in the Bitcoin space have joined Relai's rockstar advisory board. Lina Seiche, Gigi, Joe 'Nakamoto' Hall, and Daniel Prince are now part of the Relai family, offering their invaluable expertise and support to help us grow and stay true to our mission.
In this blog post, we'll introduce you to these outstanding individuals and share what they'll bring to Relai.
Update: We're excited to announce that Roman 'Blocktrainer' Reher joined our advisory board in early September 2023.
WELCOME TO OUR NEW ADVISORS
If you're following Relai on Twitter, you probably know Lina, Gigi, Joe, and Daniel already. For anyone else, let us give you a quick refresher on what remarkable contributions they are bringing to Bitcoin on a daily basis.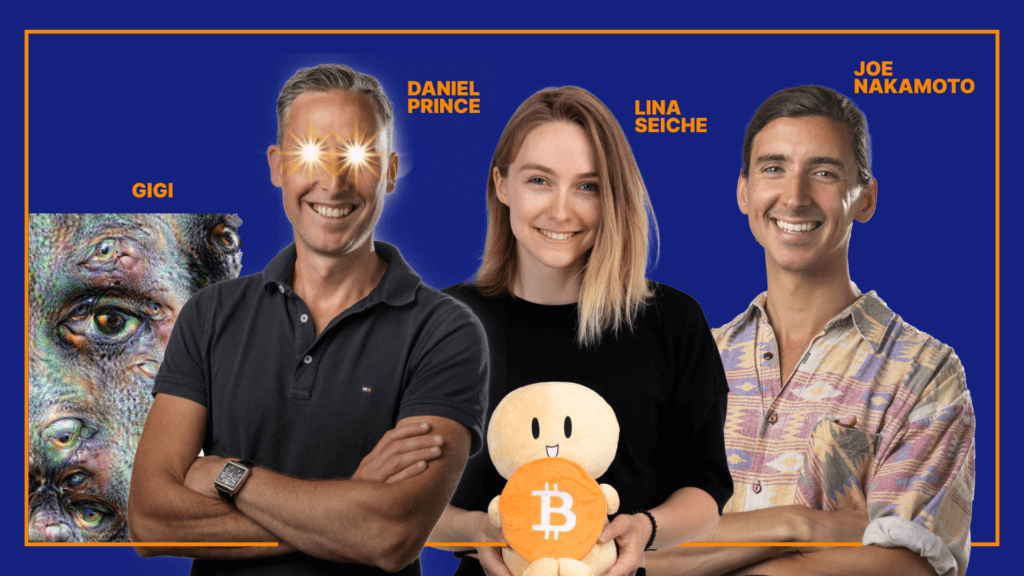 LINA SEICHE
Lina Seiche is the creator of The Little HODLer, one of the world's most popular Bitcoin merchandise brands. Her work aims to bridge the gap between the highly technical Bitcoin space and the real world.
Let Lina tell you why she is excited about this partnership: "Relai is one of the few companies Bitcoiners can identify with—not just because its service offering is Bitcoin only, but because it is backed by a team of smart and driven Bitcoiners who truly understand their users".
Lina has a large following on Twitter as well as on Instagram. You can check our and order The Little HODLer merch on the official website.
GIGI
Next up, we have the one and only Gigi. As a coder, writer, and author of the highly recommended book '21 Lessons', Gigi drives Bitcoin adoption in various ways. With his deep understanding of the Bitcoin space, he'll provide valuable insights and direction: "As I have said many times in the past, I am convinced that stacking sats is one of the most powerful things anyone can do, which is why I'm happy to advise Relai on their mission to onboard the masses in a simple yet self-sovereign way."
Gigi is very active on Twitter and on nostr (npub1dergggklka99wwrs92yz8wdjs952h2ux2ha2ed598ngwu9w7a6fsh9xzpc). You can find his writing on his website dergigi.com, and you should definitely check out his book 21 Lessons.
JOE 'NAKAMOTO' HALL
If you like entertaining Bitcoin videos, you have probably seen one made by Joe 'Nakamoto' Hall. He's a Bitcoin journalist, filmmaker, conference host, and MC. Joe is dedicated to making Bitcoin accessible, fun, and mainstream.
He explains: "As the Bitcoin app for newbies, 'pre-coiners,' and those keen to keep their KYC footprint low, Relai aligns sweetly with my mission."
Joe is regularly posting videos on Twitter, as well as on his YouTube channel. You can also find Joe's work on Cointelegraph.
DANIEL PRINCE
Last but not least, we have Daniel Prince, host of the Once BITten podcast and author of 'Choose Life'; Daniel is enthusiastic about joining our advisory board.
Daniel in his own words: "Being invited to join the advisory board was an honor and an opportunity I was all too happy to accept! I look forward to helping the team achieve their vision of Orange Pilling as many people as possible about Bitcoin."
Daniel is very active on Twitter, and is regularly releasing new episodes of the Once BITten podcast. You should also check out his book 'Choose Life'.
DOUBLING DOWN ON BITCOIN EDUCATION
Lina, Gigi, Joe, and Daniel are European Bitcoin Legends, all contributing to this financial paradigm shift uniquely. They are all excellent Bitcoin educators, which is something Relai is putting a heavy focus on. Having them on board is yet another step in letting as many people as possible know why Bitcoin is the best savings technology ever.
And we're not only talking about educating people; we actually do it. At Relai, we have already launched:
At Relai, we aim to give you as much control over your money as possible. The Relai app offers a non-custodial wallet, which means you have complete sovereignty over your bitcoin.
To start buying bitcoin and experience our service, download the Relai app from the Google Play Store or Apple App Store (iOS app currently only available in Switzerland and Germany).