Back
How to Invest in Bitcoin (With Little Money)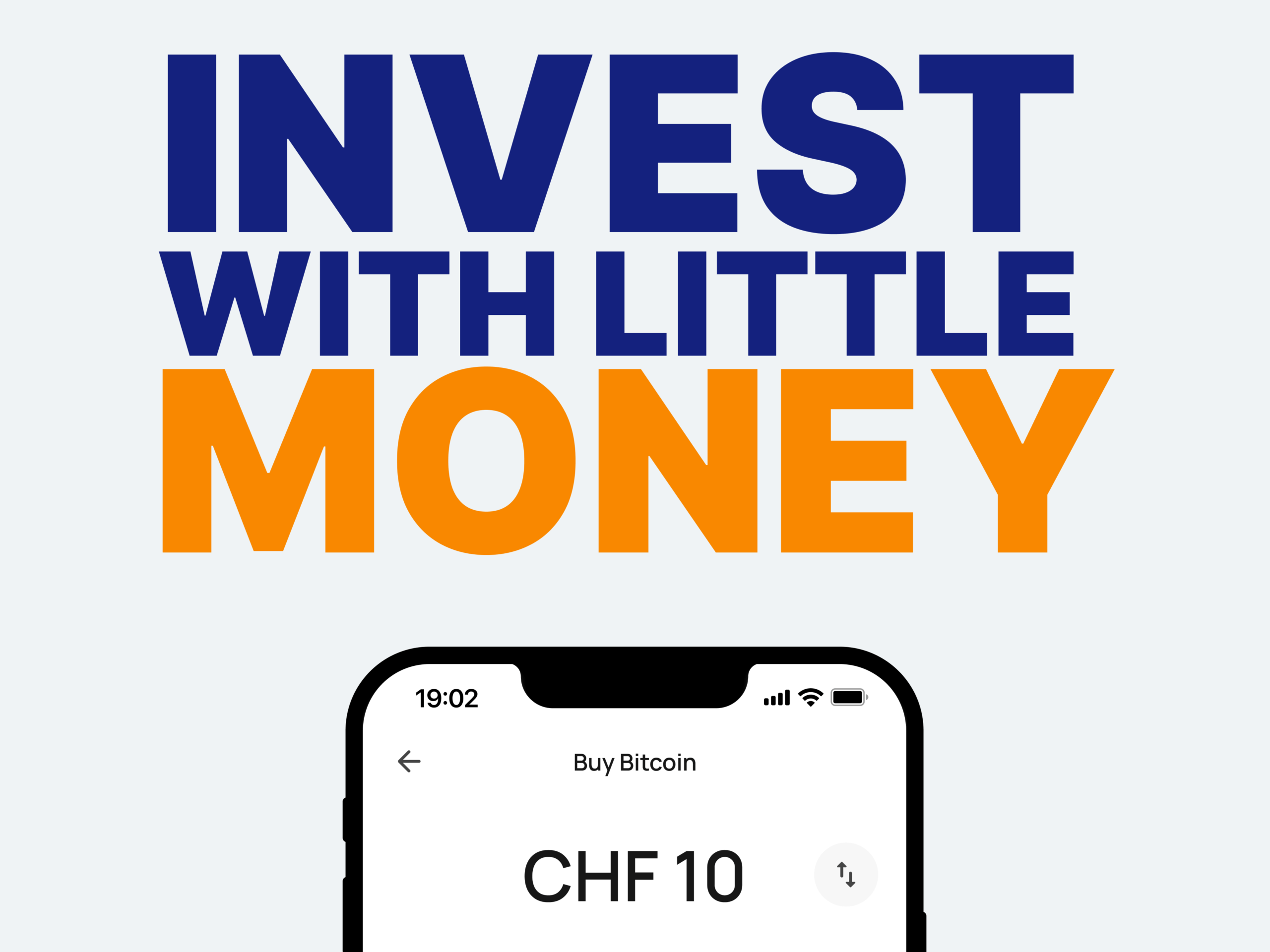 Not everyone has thousands of dollars or euros lying around that they can put towards investments. Fortunately, bitcoin is an investment asset that anyone can access, even investors with little investment capital.
In this guide, you will learn how to invest in bitcoin with little money using Relai.
Invest in Bitcoin With as Little as €10: Here's How!
The 'Made in Switzerland' bitcoin investing app Relai enables anyone in Europe to start investing in bitcoin with as little as €10. For young or first-time investors with little money, Relai arguably provides the best way to start investing in bitcoin.
What's more, investing in bitcoin with Relai is so simple, it only requires three basic steps:
Download the Relai mobile app.
Put in the amount of bitcoin (BTC) you want to buy.
Make a bank transfer to pay for your bitcoin purchase.
And that's it! That's how easy it is to buy bitcoin using Relai even if you only have €10 to put towards investments.
To make your first bitcoin purchase using Relai as easy as possible, let's break down the bitcoin buying process into more detail.
Download Relai from the App Store or Play Store.
Open the app and secure your bitcoin wallet using the wallet backup option. (Note down your seed phrase and store it securely!)
Click "Buy" and put in the amount of BTC you want to purchase (in euros or Swiss francs).
Click "Next" to confirm the transaction.
Enter your bank account's IBAN so that Relai knows who the funds are coming from.
Copy and paste the payment details into your banking app and make the payment to complete the transaction. You don't need to put a transaction reference on the payment as Relai recognizes that it's coming from you from your IBAN.
Your bitcoin will show up in your Relai wallet as soon as the bank transfer settles.
And that's it!
Even with little money, you can start investing in bitcoin within minutes, thanks to Relai.
You Don't Need Money to Make Money
It's a common misconception among first-time and novice investors that you need money to make money. While your absolute returns will be higher if you invest €10,000 instead of €10, the reality is that anyone can start investing by regularly putting money into an asset or investment portfolio over a long period of time.
There is actually a name for this investment approach: it's called dollar-cost averaging, and it's particularly popular among bitcoin investors.
Dollar-cost averaging is an investment strategy where you buy a fixed dollar (or euro or franc) amount of an asset or a basket of assets on a regular basis to grow your investment over time.
In addition to allowing small investors to grow their wealth, dollar-cost averaging also "smoothes" out market volatility as it enables investors to buy into an asset (or basket of assets) at an average price over the course of their investment period.
Given bitcoin's high returns potential, price volatility, and ability to be broken down into one-millionth of a bitcoin, it's an ideal asset for dollar-cost averaging with small weekly or monthly investments.
According to data from dcaBTC.com, if you would have invested €10 into bitcoin every week for the last three years, you would now have over €11,600 in bitcoin today.
While no one knows for certain whether or not bitcoin will be able to replicate its incredible historical returns, most bitcoin experts believe that the digital currency still has substantial upside price potential.
So even if you are only able to invest €10 or €20 a week into bitcoin, you may still end up with a sizeable pot of "digital gold" in a few years.
How to Auto-Invest in Bitcoin With Little Capital
Even if you can only spare €10 a month, Relai has you covered! Using Relai's auto-invest function, you can start dollar-cost averaging bitcoin with as little as €10 per week or month.
Auto-investing works essentially the same way as a single buy in the Relai app and only takes a few minutes. The only differences are that you have to set your purchase to weekly or monthly and that you have to set up a recurring bank transfer instead of making a single bank transfer. And that's it!
Thanks to Relai, anyone can start investing in bitcoin even if they only have a handful of euros to put towards investments.
To start investing in bitcoin within minutes, download the Relai app today.