Back
Journalism and Bitcoin optimism with Natalie Brunell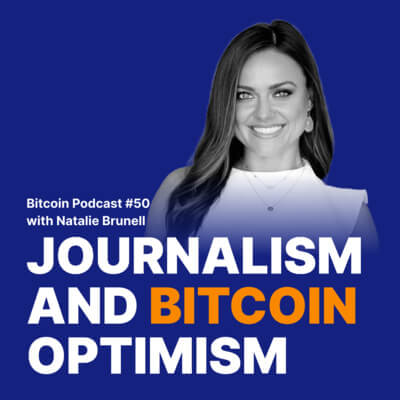 Natalie Brunell is an Emmy-awarded investing journalist, podcaster, and Bitcoin educator. She is a well-known spokesperson within the Bitcoin community, who hosts her own podcasts and shows and regularly appears on US national television.

In episode 50 of the Relai Bitcoin Podcast, host Natalie Brunell sits down to discuss her journey as an Emmy-awarded journalist and Bitcoin educator. With her extensive knowledge and experience within the Bitcoin community, Natalie delves into topics such as the concept of sound money, the mainstream understanding of Bitcoin, and the history and future of the cryptocurrency.
She also shares her family history and how it led her to become a vocal advocate for Bitcoin. Additionally, Natalie touches on the current state of money printing, debt, and inflation, how they relate to Bitcoin, and the growing interest in Bitcoin among millennials.
Join us as we explore these and other fascinating topics with one of the leading voices in the world of Bitcoin journalism."
Natalie is very active on Twitter, and she has her own Podcast called ' Coin Stories'.
Watch the podcast episode on YouTube:
You can also listen to the episode on Anchor.FM: