Back
Relai brings Lightning to Europe: Sign up for the beta now!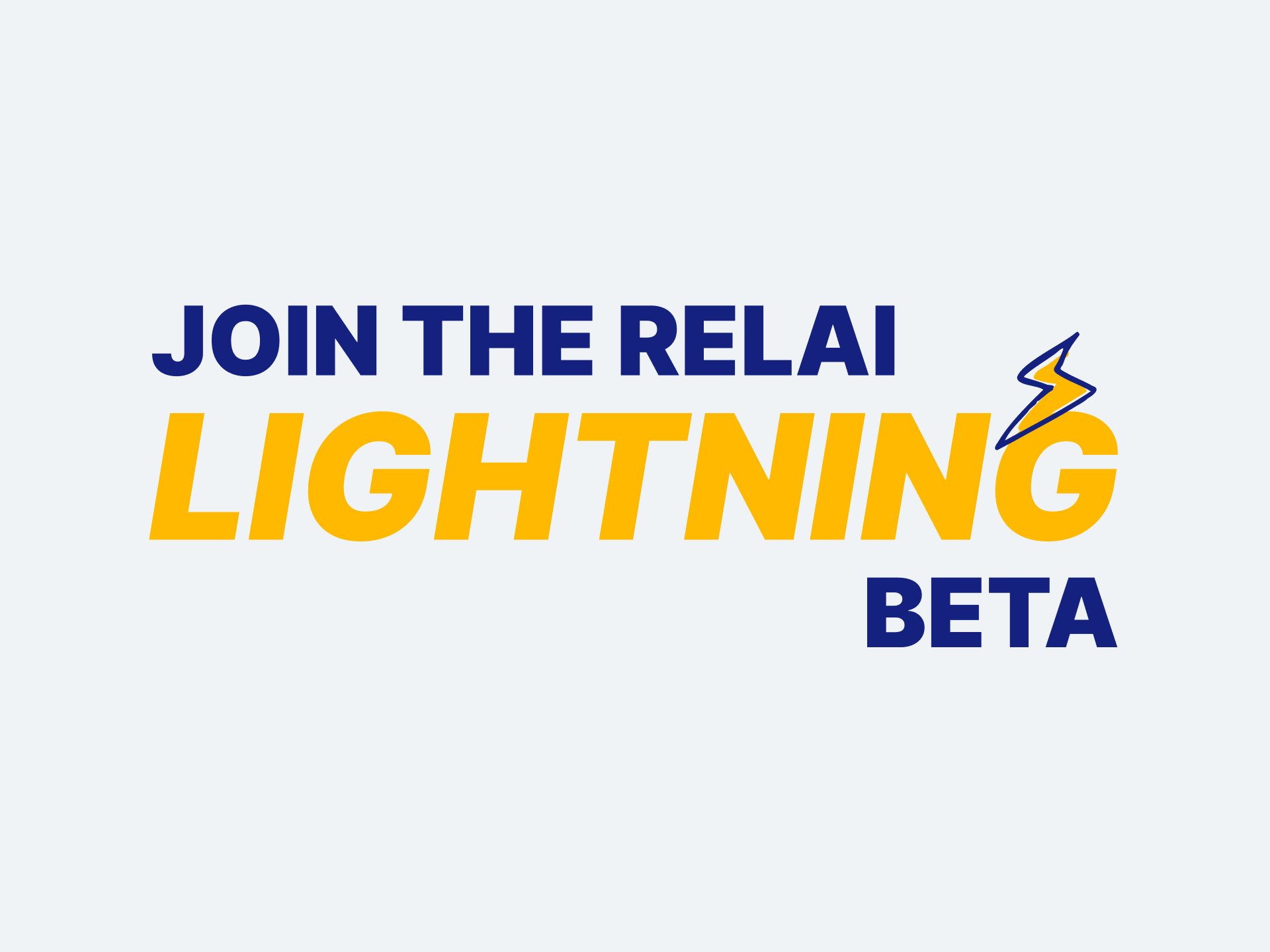 With Relai, Bitcoin is easier and faster than ever before.  As of now, you can sign up for the beta test for our Non-Custodial Relai Lightning Wallet. In cooperation with the renowned Lightning startup Breez, our goal is to harness the potential of the Lightning network. With this innovation, we want to bring Bitcoin closer to even more people and offer them a fast, decentralized, and cost-effective way to use the most revolutionary asset of our time.
In this blog post, you'll learn all about the new Lightning Wallet, which allows you as a Relai user to send and receive Bitcoin at lightning speed.
LIGHTNING AND RELAI: ULTRA FAST, CHEAP, NON-CUSTODIAL
At Relai, we are constantly looking for ways to make Bitcoin even easier, even more understandable, and even simpler. With that in mind, we're excited to announce our collaboration with Breez. Together, we've created something that will revolutionize how you conduct Bitcoin transactions.
At the heart of this innovation is integrating a Non-Custodial Bitcoin Lightning Wallet into the Relai app. Yes, you read that right: Relai now supports Lightning transactions! All while still keeping full control over your Bitcoins.
WHAT IS THE LIGHTNING NETWORK?
The Lightning Network is an innovative system that revolutionizes how transactions are conducted in the Bitcoin world. It provides a solution to Bitcoin's scalability issues and enables fast, low-cost transactions.
The main goal of the Lightning Network is to reduce the number of transactions that need to be processed on the main blockchain by handling smaller and more frequent transactions in separate channels.
ADVANTAGES OF THE RELAI LIGHTNING WALLET:
Speed: The Lightning Network enables lightning-fast Bitcoin transactions that are processed in near real-time.
Cost efficiency: Especially small amounts (micropayments) are made possible by extremely low transaction fees.
Complete control: The Non-Custodial Relai Lightning Wallet ensures that you always have control over your Bitcoins.
Peer-to-Peer: Experience the immediacy of peer-to-peer Lightning payments, enabled by Breez's technology.
FROM VISION TO REALITY
Our collaboration with Lightning startup Breez embodies both companies' vision to make Bitcoin and the Lightning Network as accessible as possible. Adem Bilican, co-founder and CTO of Relai, sees this integration as a step towards establishing Bitcoin as a daily transaction currency in Europe.
SIGN UP FOR OUR LIGHTNING BETA
Step 1: Complete this form and submit it
Step 2: Make sure that you also confirm the email you'll receive
Step 3: We'll send you more information about the Beta after we've selected the initial test group (in a few days latest)
Don't hear back from us after you've signed up? Don't worry. We'll gradually invite more people to the beta and will open up the feature to every user soon.
But don't worry! Everyone will soon have the chance to enjoy this electrifying experience. In the fourth quarter of 2023, the feature will be available to all Relai users. And soon after, in early 2024, you'll even be able to buy bitcoin directly into your Relai Lightning wallets!